Kosher Queen Jamie Geller Makes Aliyah on TV
By Rea Bochner on Sep 11, 2012 with Comments 0
By Rea Bochner, WrittenByRea.com
Amidst the flurry of pre-Rosh Hashana cooking, Jamie Geller, celebrity chef and founder of the Kosher Media Network and "Joy of Kosher" cooking series (think frum "Rachael Ray") has released a documentary series, reality TV-style, entitled "Joy of Aliyah", chronicling her and her family's move to Israel in partnership with Nefesh B'Nefesh. With the assistance of Nefesh B'Nefesh, The Israeli Ministry of Immigrant Absorption and the Jewish Agency for Israel, the series promotes both Geller's series and offers a real-life look at the realities of leaving galus for the Holy Land.
Beginning their shoot in late July, the series began with Jamie's first announcement of her and her husband's plans to move to Israel with their five children at a Nefesh B'Nefesh event in Manhattan. Geller explained their reasons for moving: "For the last 2000 years, for the Jewish people, it's been a dream in their heart to return. It's been like that for us…I have so much family there and I'd like to be with them for the holidays and have my kids grow up with cousins."
The second episode shows the family in a flurry of activity in preparation for their trip: packing their house in New Hemsptead, selling their belongings, and making (multiple) trips to Target to stock up on American goods that are hard to come by in the Holy Land. Also featured is the massive, 40-foot ZIM "lift" that shipped their belongings to Israel. Like many olim, Geller shares her apprehensions about leaving the conveniences of the States and her large, comfortable home for an apartment in Ramat Beit Shemesh that is less than half the size.
In the following episode, the Gellers hold a good-bye barbecue in their home for friends and family (including "Jew in the City" founder Allison Josephs) with gorgeously-laid tables and gourmet food. Obviously.
The fourth installment takes place during the family's final 24 hours in the States, taking care of last-minute details, putting the kids to bed in sleeping-bags in their now empty house, Geller bidding farewell to the chef's kitchen she designed herself. Upon the family's arrival at the airport for their flight, (which was sponsored by Nefesh B'Nefesh for all new olim on August 13th), they are greeted by Rabbi Fass, the executive director of Nefesh B'Nefesh, and sign the requisite forms for Teudat Zehut, Israeli citizenship. Then comes the 13-hour flight, during which the Gellers try to beat jet lag by putting their five young children to sleep in the middle of the afternoon (considering how dazed and bleary-eyed they looked when they arrived in Israel to a cheering welcome party, I'm not sure how successful they were).
In the latest episode, the family finally reaches their new home in Ramat Beit Shemesh, go to a Teudat Zehut fair to receive their health benefits, set up a bank account and try to stop their kids from hitting each other. They also visit the office of Immigrant Absorption ("where you get the money"), start their English-speaking daughters at a Hebrew-speaking school and live on hot dogs and pizza eaten on their neighbor's folding table.
The Gellers should have only Hatzlacha in their new home!
The newest episode airs on Wednesday, September 12th at 7 p.m. on JoyofKosher.com.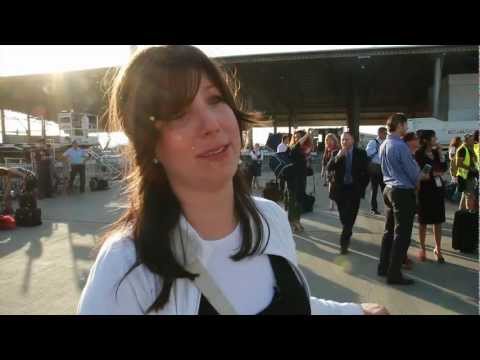 Filed Under: Entertainment • Rea Bochner
About the Author: Rea Bochner is a professional writer who has written for dozens of web and print publications, including Chabad.org and Aish.com. When not crafting copy on her laptop, Rea is a full-time mother, laundrywoman, chef, chauffeur, art director, housekeeper and referee. She lives in Cherry Hill, NJ with her husband and two sons. See more of Rea's work by visiting www.writtenbyrea.com
Comments (0)