Happy Hanukkah, Technion style
By Abie on Dec 10, 2012 with Comments 0
By Abie, http://www.amazon.com/shops/A866AKZOFH7X
While we have been watching Israel fight for the right for its citizens to live peacefully over the past two weeks we have also been proud to be associated with Iron Dome. It and the other two protective anti-missile systems being developed all have relied, in some cases almost exclusively, on Technion graduates.
It is therefore pleasing to be able to show the lighter side of our students' abilities. Four talented Technion students take on a special mission – to build a Rube Goldberg Machine that lights the Hanukkah Menorah. With help from a number of Technion faculties and labs Eyal Cohen, and Tomer Wassermann of Mechanical Engineering and Dvir Dukhan and Matan Orian of Industrial Engineering and Management built this fun machine that does the trick in just under 2 minutes.
Here it is on YouTube: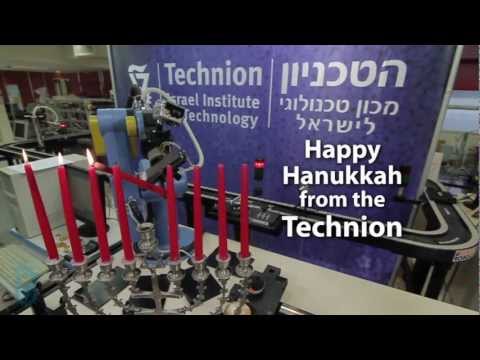 Chag Hanukkah Sameach.
Filed Under: Abie's Corner
About the Author: Abie is an orthodox Jew from Brooklyn who will be adding some interesting and humorous posts from around the Jewish world. More about Abie
Comments (0)